1865 House, Vancouver BC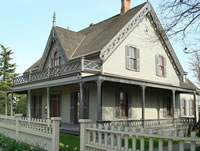 Irving House is a large, one and one-half storey plus basement wood-frame residence, designed in the Gothic Revival style, located on its original site at the corner of Royal Avenue and Merivale Street in the New Westminster neighbourhood of Albert Crescent. Irving House is remarkable for the extent to which its original exterior and interior elements have been maintained. Operated as an historic house museum, it also includes a collection of many original furnishings from the Irving family.
Irving House
Location
302 Royal Avenue, New Westminster, B.C.
Completion of Construction
1865
Other Information
Original owner – Captain William and Elizabeth Jane Irving
Current Status
Heritage of New Westminster
Construction Method
Platform-Frame
Style
Gothic Revival style
Framing
2-inch Douglas Fir lumber
Cladding
Wide lapped Redwood weatherboard siding and wooden trim
Comdition
No signs of decay on any framing members
Major Repair
1880
By courtesy of New Westminster Museum and Archives, New Westminster, British Columbia
Other link: http://www.flickr.com/photos/bobkh/297751638/in/set-72157594340707368/
1912 House, Vancouver BC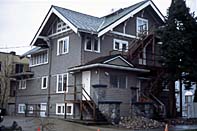 This classic turn-of-the-century home was slated for demolition in 1990. It was already stripped back to the bare framing when it was purchased by a new owner who wished to convert it into apartments. At the new owner's request, the building was inspected by Dr. Paul Morris of Forintek in 1991 for signs of deterioration. After 80 years in service there were no signs of decay on any of the framing members nor the window frames, most of which were original.
 1912 House
Location
Vancouver
Date of Construction
1912 (estimated)
Original Records
Water service 1909
On City File
1915
Other Information
Original owner – Henry B. Ford
Current Status
Vancouver Heritage Resource Inventory
Construction Method
Platform-Frame
Style
Heritage, with multiple pitched roofs & wide overhangs
Framing
Rough green full 2-inch Douglas Fir lumber
Sheathing
Rough green Douglas Fir boards
Building Paper
Asphalt-impregnated paper
Cladding
Western Red Cedar shakes
Western Red Cedar siding
Roofing
Western Red Cedar shakes (new in 1991)
Condition
No signs of decay on any framing members
Temple at Nara, Japan
The Horyuji Buddhist temple at Nara is probably the oldest wooden structure in the world. Nara became the first permanent capital of Japan in 710.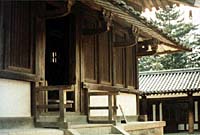 Horyuji Buddhist temple at Nara
Location
Nara, Japan
Date of Construction
670 – 714 (Estimated)
Original Records
Built on site of original temple from 607
Other Information
Original owner – Prince Shotoku
Current Status
World Cultural Heritage Building
Construction Method
Heavy Timber
Style
2-inch Douglas-fir lumber
Framing
Hinoki (Durable – Japanese cypress)
Roofing
Multi-tiered roof with Clay tile
Condition
No signs of decay on any framing members
Maintenance Schedule
Major repairs every 100 years, rebuilt every 300 years