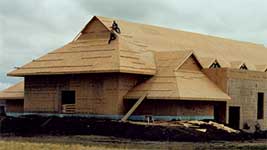 Roof coverings have often been contributing factors in conflagrations. Most roof coverings, even today, are combustible by the very nature of the materials used for making them waterproof.
The objective of the NBCC is therefore to require that the risks associated with a roof covering be minimized for the type of building, its location and use.
The NBCC permits roof coverings that meet a Class C rating to be used for any building regulated by Part 3 of the Code, including any noncombustible building, regardless of height or area.
This C rating can be met easily using FRTW shakes or shingles, asphalt shingles, or roll roofing.
Small assembly occupancy buildings not more than two storeys in building height and less than 1000 m2in building area do not require a classification for the roof covering. In these traditional cases, untreated wood shingles are acceptable if they are underlaid with a noncombustible material to reduce the potential for burn through with a burning brand.