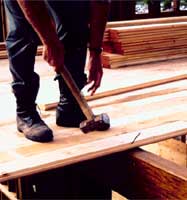 Plank decking is tongue and groove lumber at least 38mm (1-1/2″) thick, with the flat or wide face laid over supports such as beams or purlins to provide a structural deck for floors and roofs. It is used where the appearance of the decking is desired as an architectural feature, or where the mass of decking is required to add to the fire safety of Heavy Timber construction.
Individual planks can span simply between supports, but are generally random lengths spanning several supports for economy, and to take advantage of increased stiffness.
Wood species commonly used for plank decking include western red cedar, Douglas fir, western hemlock, and various species of the Spruce-Pine-Fir group. Cedar is often selected for exposed applications where its natural durability is an added advantage to its attractiveness.
The general term "decking" is used to describe both tongue and groove lumber laid flat (plank decking), and lumber laid on edge (laminated decking).
Laminated decking is dimension lumber placed on edge so that each member acts like a joist, and adjoining pieces are usually nailed to each other to create a nail-laminated load sharing unit.
Laminated decking was once a popular method of building construction where a heavy floor was required and may in fact have contemporary building applications where an industrial type floor is needed.