Manufacturing and Ordering
Plank decking is a solid sawn lumber product manufactured as in the figure below, except that unlike dimension lumber and timbers, additional manufacturing is necessary to provide the tongue and groove profile, V-jointing, and any other special surface machining.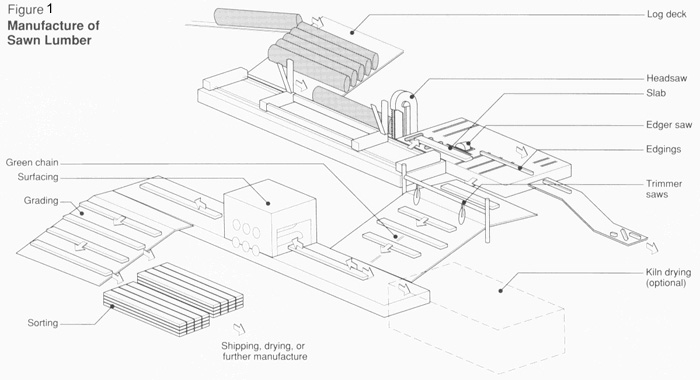 Moisture Content
Plank decking is generally specified, dressed, and supplied S-Dry (moisture content 19 percent or less at time of surfacing). It is generally kiln dried to an average moisture content of 15 percent to minimize on site shrinkage or warping.
Ordering
Plank decking is usually purchased in random lengths ranging from 1.83m (7′) to 6.10m (20′). Longer lengths may be specifically ordered. While decking may be ordered in specific lengths, designers should expect limited availability and extra costs. A typical specification for random lengths is as follows:
90% of planks 3.0m (10′) and longer
40 percent to 50 percent of planks 4.9m (16′) and longer
For both 64 and 89mm (2-1/2″ and 3-1/2″) decking, designers should check that the decking lengths are adequate for spans. A rule of thumb is that spans should not be more than about 600mm (2′) longer than the length which 40 percent of the decking shipment exceeds. Long lengths may only be available in certain species such as Douglas fir and western red cedar.
For simple-span or two-span continuous decking, uniform lengths should be specified even though unit material costs will be higher.