Canadian Forests
Covering nearly half of Canada's land area of 2.5 billion acres, the Canadian forest offers ample opportunity for tourism, parks and the provision of forest products. This massive resource accounts for 15% of the world's softwood timber from which Canada produces 11% of the world's lumber. The bulk of Canadian softwood lumber is exported to the United States, where it represents 1/3 of U.S. consumption.
Forestry is such a substantial industry in Canada that it is of particular importance that the forest be capable of providing products on a sustainable and perpetual basis. The Canadian forest industry is a world leader in forest management techniques, improving recovery in lumber manufacturing, waste reduction, and new products that maximize resources and species.
In 1996, Canada became the first country in the world to have a national standard for Sustainable Forestry Management developed by the Canadian Standards Association (CSA) through an open and inclusive process. To be granted forestry certification under the standard, companies must demonstrate forest management systems based on long term environmental objectives.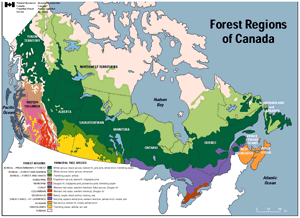 Click to enlarge map
This map appears courtesy of Natural Resources Canada.
Canadian forests have several features that provide desirable structural wood products. Some of those include: a favourable northern climate, a majority of the species (spruces) have small knots and many of the western species grow to 30m or more in height providing long sections of clear straight grain. The majority of the structural products come from a spruce-pine-fir grouping which has the following advantages for structural applications:
straight grain
good workability
light weight
moderate strength
small knots
holds nails and screws well