These specified strengths and modulus of elasticity are based on lumber that is graded in accordance with NLGA Standard Grading Rules for Canadian Lumber. Lumber should be identified by a grade stamp in accordance with the provisions or the CSA Standard CAN/CSA-O141. These values are referenced in the NBCC or the provincial equivalent.
These values are intended to be used by qualified designers and can be used in conjunction with the appropriate adjustment factors found in the CSA O86 Standard . Design tables, examples and background information can be found in the CWC's Wood Design Manual which includes a copy of CSA O86 supplemented with commentary material.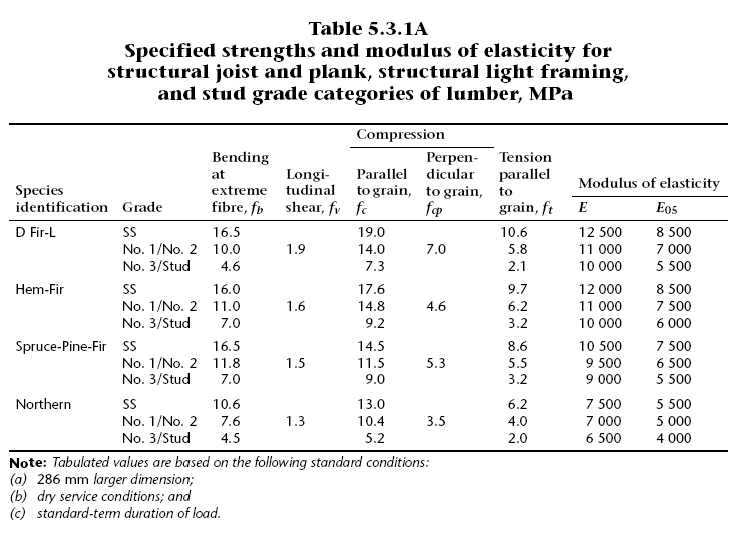 With the permission of the Canadian Standards Association (operating as CSA Group), material is reproduced from CSA Group standard, O86-09 CONSOLIDATION, "Engineering Design in Wood" which is copyrighted by CSA Group, 5060 Spectrum Way, Suite 100, Mississauga ON, L4W 5N6. This material is not the complete and official position of CSA Group on the referenced subject, which is represented solely by the standard in its entirety. While use of the material has been authorized, CSA is not responsible for the manner in which the data is presented, nor for any interpretations thereof. For more information or to purchase standards from CSA Group, please visit http://shop.csa.ca/ or call 1-800-463-6727.