The Grading System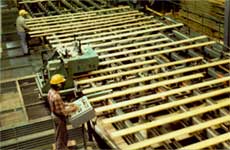 To ensure the quality of each piece of lumber, Canadian mills have each piece of lumber graded and grade stamped by lumber graders approved by the grading agency. The grading agency is required under the CLSAB regulations to perform a minimum of twelve (12) inspections per calendar year at approximately monthly intevals at each facility. This grade stamp can only be used if the mill is a member of the grading agency. The Canadian Lumber Standards Accreditation Board (CLSAB) is the regulatory body that oversees the lumber grading system in Canada. Membership in the CLSAB includes lumber manufacturers' associations and independent grading agencies in Canada that have been accredited by the CLSAB. Most Canadian grading agencies have also been accredited by the American Lumber Standard Board of Review for lumber shipped to the US. This is possible because lumber grades and sizes have been standardized in Canada and the United States. Other sizes and grades may be produced for offshore markets. Examples of CWC member agency grade stamps are shown below.
Lumber Grade stamps
Standards
Canadian dimension lumber, timbers and boards are manufactured according to the Standard Grading Rules for Canadian Lumber published by the National Lumber Grades Authority. This NLGA rule is what is used by graders to assign a grade to lumber, timbers and boards. The NLGA rule is approved by the Canadian Lumber Standards Accreditation Board in Canada and by the American Lumber Standards Board of Review in the U.S.. Approval in both countries is possible because grades and sizes of Canadian dimension lumber are identical to those in use throughout the United States. Therefore, lumber manufactured and measured according to NLGA grading rules is considered Standard Lumber in Canada and in the United States and meets both the provisions of American Softwood Lumber Standard PS 20-99 and those of the Canadian Softwood Lumber CSA Standard CAN/CSA-O141. These product standards both reference the NLGA grading rules to ensure consistent product quality.
NLGA is a rules writing agency responsible for writing, interpreting and maintaining Canadian lumber grading rules. Grading rules exist to maintain a standard or measure of value between mills manufacturing similar woods so that uniform quality is ensured to the public.
Canadian Lumber Standards Accreditation Board (CLSAB)
CLSAB performs normal monitoring of agencies to ensure the visual grading system maintains standards expected by lumber users. CLSAB's membership consists of Canadian grading agencies, which are subject to accreditation and inspection to ensure that they carry out their functions properly. In turn, these agencies conduct qualification and inspection of the mills to ensure the grading is done properly on a day-to-day basis.
Re-inspection
Grading of lumber is based upon grade, moisture content, size and manufacture at the time of grading, shipment and unloading by the buyer. If questions arise the agency whose grade stamp appears on the lumber and/or NLGA should be contacted. Contact information can be found at Canadian grading agencies listing on NLGA's website. For additional information on Canadian lumber quality control contact the NLGA at (604) 524-2393 or visit their website at www.nlga.org.