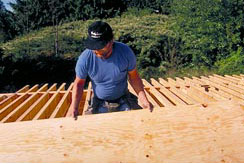 Plywood is a panel product consisting of thin wood veneers (plies) glued together so that the grain direction of each layer of veneer is perpendicular to that of the adjacent layers. This cross-lamination provides excellent two-way strength and stiffness properties, resistance to impact damage, and dimensional stability when gaining or losing moisture.
Many kinds of plywood are manufactured in Canada. Two species types (available in several grades) are assigned specified engineering strength values under the Canadian standard CSA O86 Engineering Design in Wood: unsanded Douglas Fir Plywood (DFP) and unsanded Canadian Softwood Plywood (CSP).
Other common grades of DFP and CSP include sanded grades which are used primarily in concrete formwork or non-structural applications and Select and Select Tight Face grades which are mainly utilized in floor underlayment applications where a smooth and solid surface is required. Plywood can also be manufactured from Poplar, including both unsanded and sanded type grades.
During the manufacture of plywood, veneers are bonded under high temperature and pressure with a phenol-formaldehyde resin glue that is completely waterproof, making the plywood suitable for use under conditions of extreme exposure to moisture.