General Guidelines
Indicate the type of plywood required. The specifications covering manufacture are: 

CSA 0121 Douglas Fir Plywood

, 

CSA 0151 Canadian Softwood Plywood

 and 

CSA 0153 Poplar Plywood

.

Indicate the grade or grades acceptable and the minimum thickness.

Indicate the support spacing and direction of face grain orientation with relation to supports.

Indicate the type, size and spacing of fasteners.

Check the product for a quality certification grade mark as an assurance that the plywood conforms to a CSA specification.

Plywood panels should be protected from rain and snow before and after installation to prevent an increase in moisture content.
Fire Safety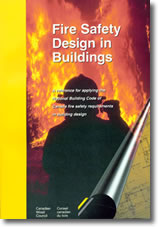 Plywood products are used structurally in fire rated floor, wall, and roof assemblies. Plywood panels may also be used for fire stops in concealed spaces such as attics. The Fire Safety Design in Buildings book provides information on the uses of plywood in fire-rated assemblies for all types of buildings.