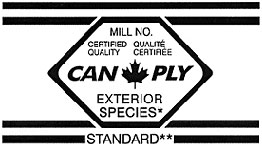 Each plywood plant has resident quality control personnel to help ensure that the finished panel will meet the requirements stipulated in the manufacturing standard . Veneer thickness, moisture control for veneer drying, panel grading, and glue bonding are examples of stages of manufacture that are continuously monitored in quality control.
* Indicates Species Designation CSP, DFP or POPLAR
**Indicates the CSA standard governing manufacture: CSA O151, CSA O121 or CSA O153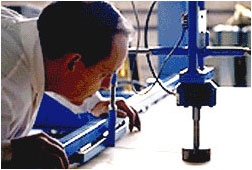 In Canada, approximately 80% of all construction/industrial grade plywood is manufactured under a quality system that includes auditing and control of in-plant procedures by the Canadian Plywood Association (CANPLY). These products are typically identified by a CANPLY certification surface mark. This mark signifies that the plywood has been subject to an accredited third party quality assurance program, which entails continual monitoring of inner ply grade, surface ply grade, panel thickness, panel dimensions, panel marking, workmanship, and glue bond strength to ensure that the plywood will meet or exceed the requirements of the applicable manufacturing standard
Other Canadian softwood/hardwood plywood plants may also employ voluntary quality auditing by independent certification agencies to ensure conformance to applicable requirements.