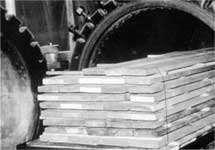 Preservative-treated wood is wood which has been surface coated (non-pressure treated wood), where the application of preservative is by brushing, spraying or dipping the piece) or impregnated by means of pressure with chemicals (Pressure Treated Wood) which improve resistance to damage from decay and insect attack.  Read more on treating methods.
Preservative-treatment processes do not alter the basic characteristics of wood but do provide much improved service life for wood building materials in severe service conditions.  In some cases the strength of wood is reduced due to the incising method used, and this reduction is reflected in reduction factors in wood design standards.
For a wood preservative to function effectively it must be applied under controlled conditions, to specifications known to ensure that the preserved wood will perform in service. The Canadian Standards Association (CSA) publishes a wood preserving standard containing these specifications. CSA Standard O80-Series 08 Wood Preservation gives detailed requirements which are particular to Canadian wood species and also adopts certain standards of the American Wood Protection Association (AWPA).
The ease by which a species can be treated is a function of the cell biology and the process used. Canada has an abundant variety of wood species. Some species are more difficult to pressure-treat than others.  More on Treatability of Major North American Softwoods