Life Cycle Assessment
Life cycle assessment (LCA) is a performance-based approach to assessing the impacts related to building design and construction alternatives have on the environment. The best way to understand the full environmental impact of any product or structure is to analyze impacts at every stage of its life cycle.
LCA is accepted around the world as a methodology to evaluate and compare the environmental impacts of different building materials, products and complete structures over their lifetime – from resource extraction through manufacturing, transportation, installation, building operation, decommissioning and eventual disposal. It enables an objective comparison to be made between alternate materials and assemblies over their lifetime, based on quantifiable indicators of environmental impact. Life cycle assessment clarifies the environmental trade-offs associated with choosing one material over another and, as a result, provides an effective basis for comparing alternate designs in a specific geographic location.
Numerous life cycle assessment studies worldwide have shown that wood products yield clear environmental advantages over other building materials at every stage. Wood buildings can offer lower greenhouse gas emissions, less air pollution, lower volumes of solid waste and less ecological resource use.
For more information on LCA, visit www.naturallywood.com or Athena Sustainable Materials Institute.
LEED V4 LCA Credit and Case Study
Wood and Energy-efficiency
With most building rating systems, wood use is rewarded in the context of renewability, sustainability and/or the purchase of environmentally preferable products. But it can also be used to help meet overall energy-efficiency objectives.
Because wood has better insulating value than other materials, a wood-framed home can minimize the energy needed for heating and cooling—which represents about 45% of most utility bills.
Eco-Cycle of Wood and Wood-Based Products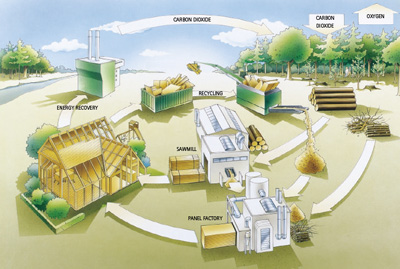 Photo source: CEI-Bois
Wood is a renewable and versatile raw material. It can be used for construction, furnishing, furniture, food handling, packaging, pallets and transport applications. At the end of its first life, wood or a wood-based product can be:
• Re-used
• Re-cycled
• Used as a carbon-neutral source of energy
Respect for the carbon cycle calls for respecting this sequence of wood use, so as to get the greatest benefits not only from a longer period of carbon storage, but also from the energy and finite resources saved from the production of alternative fossil-based materials.
Wood produces minimal waste
Very little, if any, waste is generated during the manufacturing of timber and wood-based products, as almost all by-products are used, whether as a raw material, or as an energy source.
During the production of sawn timber, the off-cuts, wood chips and sawdust generated are used on site to produce heat and energy for the drying kilns and other operations, and off site for the production of particleboard or for the pulp and paper industry.