The Catherine Lalonde Memorial Scholarship is presented to graduate students, enrolled in a Canadian University, who demonstrate excellence in their studies of structural wood or wood design. The Canadian Wood Council (CWC) invites submissions from graduate students in engineering, architecture, wood science and forestry. The projects submitted must demonstrate the direct benefit of structural products manufactured by the Canadian wood products industry.
Catherine, a professional engineer, was a passionate representative of our industry who relentlessly championed the use of wood in residential and commercial construction. She was president of the CWC from 2000 to 2003, when sadly she lost her battle with cancer. This award was created to honour Catherine's memory and to perpetuate the legacy she left to the Canadian wood products industry through her 10 years of work at CWC.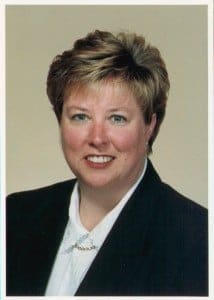 Catherine Lalonde Memorial Scholarships Awarded
Students Share Legacy's Passion for Wood Industry Innovation
Ottawa, ON, November 24th – The Canadian Wood Council (CWC) awarded the 2022 Catherine Lalonde Memorial Scholarships to Mahboobeh Fakhrzarei (University of Alberta), Tyler Hull (University of Waterloo) and the Team of Ryan Gillespie & George Wang (University of Toronto). The winners demonstrated academic excellence through research projects that will have positive impacts in the structural wood products industry.
Established seventeen years ago, the memorial scholarship is awarded yearly to graduate students whose wood research exemplifies the same level of passion for wood and the wood products industry that Catherine Lalonde championed relentlessly as a professional engineer and president of the CWC.
Team of Ryan Gillespie & George Wang from the University of Toronto, Master of Architecture program at the Daniels Faculty of Architecture, Landscape, and Design. Their collaborative project consisted of a mixed-use office and community centre, dedicated to climate activism, that leveraged mass timber products in an innovative structural solution where wood acts as both envelope and structure.
Mahboobeh Fakhrzarei
Mahboobeh is a 3rd year Master student in Civil Engineering at the University of Alberta. Her research project focuses on the behaviour of cross laminated Timber (CLT) diaphragms subjected to lateral loading. The goal of her project is to develop an analytical model that can be used by design engineers to predict the in-plane behaviour of CLT diaphragms.
Tyler Hull
Tyler is a 3rd year PhD candidate in Civil & Environmental Engineering at the University of Waterloo. His research focuses on the development of mass timber composites panels for use in the long span applications necessary in large wood structures. The aim of his research is to develop fundamental knowledge of mass timber composites through experimental tests, and to develop analytical and numerical tools capable of predicting their strength and stiffness.
"The winning scholarship recipients' submissions exemplify the level of enthusiasm and expertise that Catherine Lalonde encouraged and inspired within our industry," explained Martin Richard, VP of Market Development and Communications at the CWC. "Her legacy lives on through initiatives such as the memorial scholarship, and we are elated to celebrate and recognize future practitioners that share her passion for wood construction."
For more information, please contact:
Ioana Lazea
Senior Manager – Special Projects at CWC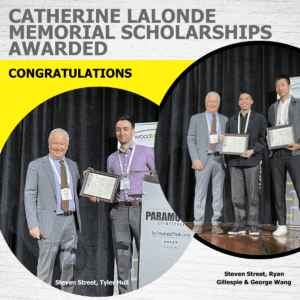 Image: The 2022 Award recipients, receiving their award at the November 24, 2022 Toronto Wood Solutions Conference from Wood WORKS! Ontario, Executive Director, Steven Street.
Mahboobeh Fakhrzarei will receive the award at a future Canadian Wood Council/ Wood WORKS! event.