Insuring Timber Initiative
The wood products construction industry has developed several technologies in recent years. Exciting products like mass timber allow for large, complex timber buildings in commercial and institutional construction. These buildings have traditionally been built using concrete or steel systems. However, with the innovation of timber products and complex framing systems, these buildings can be safely and efficiently framed using timber.
Building codes are evolving quickly to address these new systems and normalize this type of construction. However, builder's risk insurance rates have not been evolving along with construction and codes. Historical risk assessment data has largely focused on light wood frame structures such as homes; but there are significant differences that exist for larger buildings that use mass timber as structural elements. The Canadian Wood Council is working to address the difference in rates and develop new classifications to reflect the modern products that are used.
Attempting to streamline the keys to our findings we have released the report: Insuring Timber. This report is designed to lay out the facts for the insurance and the construction industry. Perhaps more importantly, this report is designed to produce engagement, provoke thoughts and form partnerships.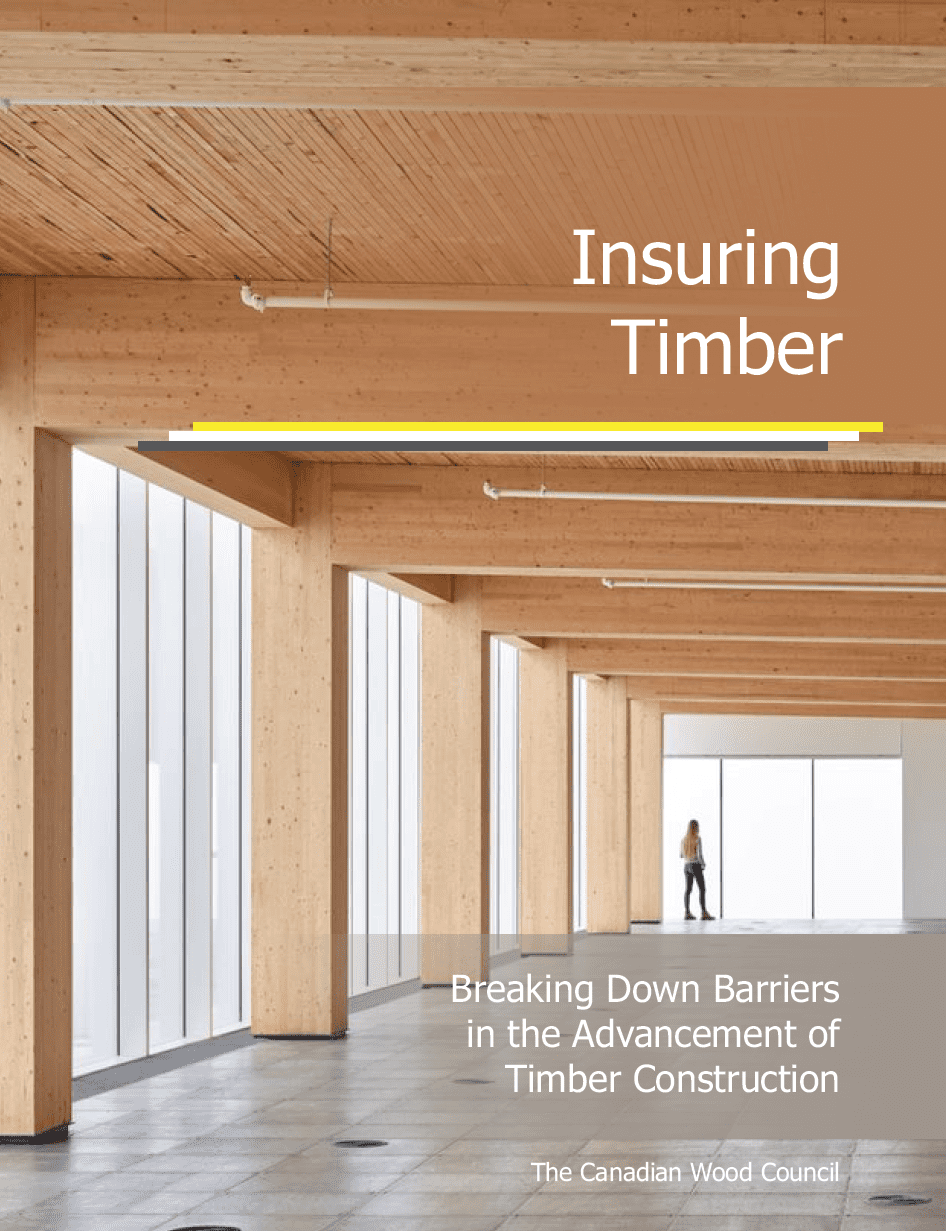 We want your help! The insurance of timber buildings during construction won't be changed overnight. The CWC is looking to build long lasting partnerships with all the players in this industry. If that sounds like something you want to be a part of, talk to us today! Email Tim Buhler, Senior Manager
Best Practices Guide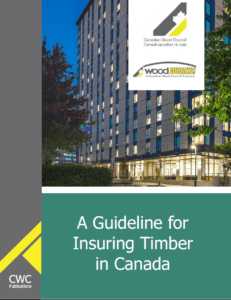 This document is intended to support your timber builds by outlining practical steps to ensure that your application for insurance is favourable, and that your project is maximizing the potential to mitigate risk. Developed with the input of insurance stakeholders, we are confident that this insider insight will increase the success of your project.
Resources
What kind of Fire Resistance Ratings can wood achieve? Check out this tool
Where can I use wood according to the code: CodeChek
You can always prove equivalency with an alternative solution! Ask us how.
Mass Timber Trends
State of the Mass Timber Industry in Canada
Latest News
Check out this informative 3 part video series by the Woodworks – Wood Products Council PART 1 PART 2 PART 3
Woodworks – Wood Products Council White Paper now available!
Large insurer tackling mass timber: Click Here
See what our friends in the US at Woodworks – Wood Products Council are up to: Click Here
Fact Sheets for Insurers
Repair and Rehabilitation
Fire Safety
Moisture Management and Protection
Best Practices